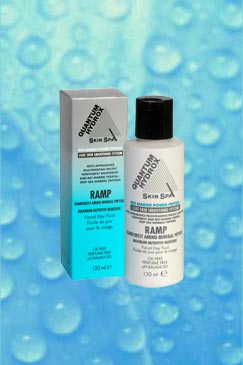 Rainforest Amino Mineral Peptide
(120ml)
Maximum Nutritive Facial Moisture Lotion
Does not contain alpha or beta hydroxy acids.
RAMP is extremely soothing and moisturising for all skin types and is a potent skin treatment designed to supplement Protecta / Repair / Exfolipac if needed.
Also helps cut the potency of glycolic-salicylic action for new users; and if required from time to time. It is loaded with potent appearance rejuvenating and anti aging peptide complexes: fermented mushroom sourced beta glucan amino acid peptide chains, SOD liposomes, phospholipids, aloe, and features unique fermented Pacific marine vegetal-mineral peptide complexes with hydrolyzed pearl nacre, chitosan, tourmaline, and volcanic obsidian.
Further fortification with glycine soya, green tea, gotu kola, rumex crispus and beta thujaplicin (from Pacific red cedar – more powerful and soothing than pycnogenol), enables this unique peptide loaded maximum nutritive moisture lotion to provide further synergistic supplementation for truly 'customised' results for a wide consumer base.
PATENT PENDING