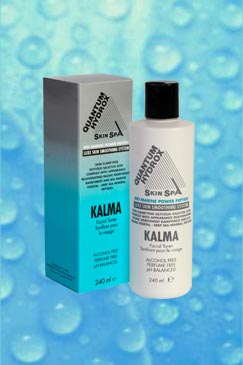 Facial Toner
(240ml)
Bio Marine Power Peptide TM and Pacific Rainforest Facial Toner
An aloe and glycolic – salicylic based soothing toner preps skin to optimal pH for upcoming Quantum synergistic treatment products.
Although Gel cleanser is pH balanced, Kalma further optimises skin's acid mantle which can be compromised by hardness or softness of water used for facial cleansing and rinsing.
Smoothes and soothes skin with chamomile, echinacea, green tea and marine extracts, while removing any traces of microexfoliation.
Non drying, yet very effective for acne management.
PATENT PENDING